Chelsea Premier League Away Ground Guide
Here are the stadiums Chelsea are going to visit on their away days in the Premier League in the 2022/23 season:
The Emirates Stadium – Arsenal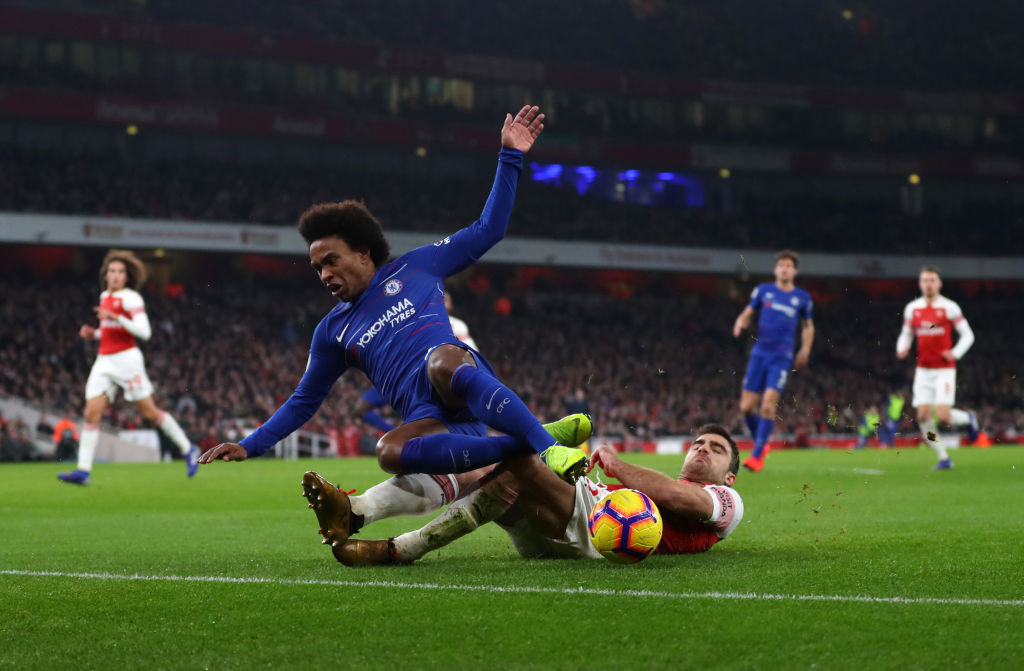 Location: Highbury House, 75 Drayton Park, London, N5 1BU England
Capacity: 60,260
A Chelsea-Arsenal game in any stadium is always a spectacle. The two London rivals have had some interesting games at the Emirates Stadium in the past.
Previously at Highbury, the Emirates has been the Gunners' home ground for the last 16 years now. The current league leaders have an impeccable record at home this season. It will be tough for Chelsea to get something when they go there.
Villa Park – Aston Villa
Location: Trinity Road, Birmingham B6 6HE
Capacity: 42,682
Villa Park is one of the noisiest stadiums in the league, especially from the famous Holt End. It is never an easy game for the visiting team, although Chelsea's record is pretty solid on that ground. The Blues won their game at the stadium this season by 2-0, thanks to a brace from Mason Mount.
Vitality Stadium – AFC Bournemouth
Location: Kings Park, Boscombe, Bournemouth BH7 7AF, United Kingdom
Capacity: 11,364
The Vitality stadium contains the least capacity amongst all stadiums in the Premier League this season. However, they do make a good atmosphere and is a very nice place to go and watch football.
Gtech Community Stadium – Brentford
Location: Lionel Rd S, Brentford TW8 0RU, United Kingdom
Capacity: 17,250
The Gtech Community Stadium was opened in 2020 and is one of the architectural marvels with great facilities and hospitality for the away fans. Chelsea struggled there last season to get a win. The struggle was repeated this time when we could only conjure up a goalless draw thanks to goalkeeper Kepa Arrizabalaga.
American Express Community Stadium – Brighton & Hove Albion
Location: Village Way, Brighton BN1 9BL, United Kingdom
Capacity: 31,800
Also known as the Falmer Stadium, the Amex Stadium is one of the best places to visit for an away fan with a great view. Although not one of the very noisiest stadiums around the country, it can go up a notch when the home team needs it in games.
On the return of Blues boss Graham Potter to that stadium in October, Chelsea were handsomely beaten 4-1.
Selhurst Park – Crystal Palace
Location: Selhurst, London, SE25; England
Capacity: 25,456
Selhurst Park without a doubt produces one of the best atmospheres in the league. Chelsea's record here is pretty decent, though it's never an easy game. The Holmesdale End creates a hostile environment. The Blues scraped through a 2-1 win this season with a late Conor Gallagher winner.
Goodison Park – Everton
Location: Goodison Rd, Liverpool L4 4EL, United Kingdom
Capacity: 39,572
Goodison Park is one of the historic places to play with a great atmosphere. It hasn't always been a happy hunting ground for Chelsea, where the supporters make a caldron for opposition teams to get sucked into.
Craven Cottage – Fulham
Location: Stevenage Rd, London SW6 6HH, United Kingdom
Capacity: 25,700
Craven Cottage is one of the oldest stadiums in the Premier League. It is a unique neutral section in one of the corners of the ground. Chelsea generally have a good record in this stadium.
Joao Felix made his Chelsea debut earlier in January and got sent off in a 2-1 defeat.
Elland Road – Leeds United
Location: Elland Rd, Beeston, Leeds LS11 0ES, United Kingdom
Capacity: 37,792
Another one of those hostile stadiums in the league where opposition teams do not always have it all their way. Elland Road has seen some of the ferocious fixtures containing Leeds and Chelsea. The Blues suffered a damaging 3-0 defeat earlier this season with Kalidou Koulibaly getting sent off.
King Power Stadium – Leicester City
Location: Filbert Way, Leicester LE2 7FL, United Kingdom
Capacity: 32,312
It is a nice stadium that can get loud at times. It has astonishingly seen Leicester lift a Premier League title in 2016 against all odds.
Chelsea's record there is generally unblemished in recent times.
Anfield – Liverpool
Location: Anfield Rd, Anfield, Liverpool L4 0TH, United Kingdom
Capacity: 53,394
Anfield is probably the toughest ground to play football in for opposition teams. The atmosphere generated from all sections of the stadium is just too good if you are a Liverpool player. Liverpool-Chelsea games at Anfield have hardly been boring, including that game in 2014 which the Blues won to dampen the title hopes of the Reds.
This season though, the game at Anfield was a snooze fest with both teams lacking quality. In fact, Chelsea would be disappointed not come away with all three points.
Etihad Stadium – Manchester City
Location: Ashton New Rd, Manchester M11 3FF, United Kingdom
Capacity: 55,097
City have been one of the recent success stories in the Premier League since the new ownership takeover. They moved to the City of Manchester Ground in 2003, from Maine Road. Chelsea's record there hasn't been too good in the past few years.
Old Trafford – Manchester United
Location: Sir Matt Busby Way, Old Trafford, M16 ORA Manchester, United Kingdom
Capacity: 74,879
Old Trafford is a ground with the largest capacity amongst any in the Premier League. It is a historic venue with plenty of stories involved. Although the current version of United isn't very good, they still give a game to top teams in their own ground.
St James' Park – Newcastle United
Location: Newcastle upon Tyne NE1 4ST
Capacity: 52,305
Despite the fact they haven't been good in the past few years, St. James' Park remains one of the electric venues in the league. Under the new ownership though, they have bought some good players.
Having such a good stadium with a great atmosphere will help them go back to challenging at the higher end of the table. Chelsea suffered a 1-0 defeat in November, a week before the World Cup.
City Ground – Nottingham Forest
Location: City Ground, West Bridgford, Nottingham, Nottinghamshire, NG2 5FJ
Capacity: 30,445
The City Ground hosts two-time European Champions Nottingham Forest, who would be glad to find themselves back in the Premier League this season. One of the stands in the stadium is named after their legendary manager Brian Clough.
Chelsea played out a highly-intense 1-1 draw on New Year's Day.
St Mary's Stadium – Southampton
Location: Britannia Rd, Southampton SO14 5FP, United Kingdom
Capacity: 32,384
Having moved from the Dell in 2001, St. Mary's is the home of Southampton. it is not one of the noisiest stadiums going around. It is good for the away fans with great viewing and a lovely place around the stadium in the south coast.
Tottenham Hotspur Stadium – Tottenham Hotspur
Location: 782 High Rd, London N17 0BX, United Kingdom
Capacity: 62,850
The new Tottenham Hotspur stadium, which opened in 2019, is one of the best stadiums in the world. The architecture and the facilities on the ground are just too good. Chelsea generally have done well in this venue, although the sample size is not very big.
London Stadium – West Ham United
Location: Queen Elizabeth Olympic Park, London E20 2ST, United Kingdom
Capacity: 60,000
The construction of the London stadium is different from Upton Park, West Ham United's previous home ground. Henceforth, the fans took some time before accepting this as their new home. Chelsea have a mixed-bag record in that stadium though playing against the Hammers.
Molineux Stadium – Wolverhampton Wanderers
Location: Waterloo Rd, Wolverhampton WV1 4QR, United Kingdom
Capacity: 32,050
Molineux is another one of those old, historic stadiums in the Premier League. It generates a good atmosphere that can be intimidating to the opposition. Chelsea's recent record there has not been good is one of the caveats behind it.